We support the success of foreigners
in the fields of food services,
food manufacturing, and nursing.

We will provide fair and appropriate support for recruiting
human resources utilizing the Specified Skilled Worker Systems.

Contribute to the creation of a
society in which multiple cultures coexist.
Greetings from the Executive Director.
Foreigners seize opportunities in Japanese society.At the same time, it contributes to the social development of Japan.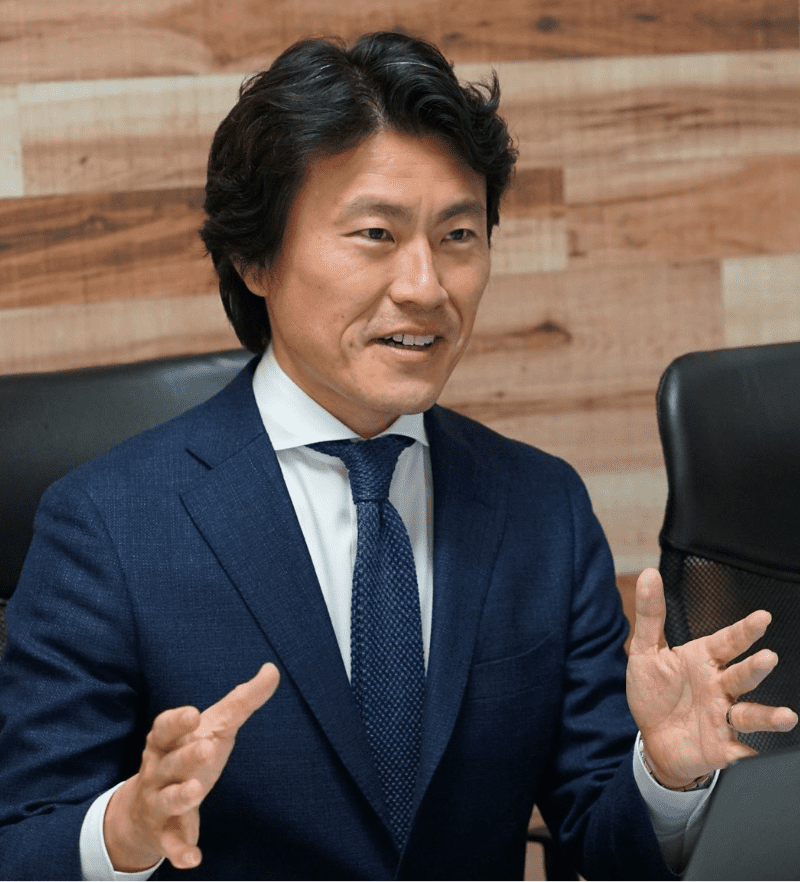 Executive Director
Inoguchi Yusuke
Japan Food and Beverage Foreign Employment Association is the first registered support organization specializing in the industry for restaurants, accommodation, food manufacturing, and nursing businesses.
Currently, in Japan, employment environment is inappropriate due to due to the labor shortage, which is adversely affecting the image of the industry as a whole.
Through the activities of this association, it is necessary not only to make corporate efforts as an individual host organization (company), but also to build a framework to appropriately hire foreign workers as an industry and to become an industry that is selected as an excellent overseas human resource.
With the establishment of this corporation, we will support the promotion of compliance and the improvement of service quality by appropriately hiring foreigners in the industry and implementing employment support and education, and will continue activities that lead to the revitalization of the entire industry.
Association activities
Seminar activities for companies and job applicants

The specific skill system has started, and we are informing both the host company and the job applicants of the requirements and preparations for working in the specific skill system in a seminar.

News release

Explanation of procedures for companies accepting status of residence and support for

FacebookLIVE・YouTube

Personnel who provide detailed support regarding procedures for changing the status of residence due to the hiring of global human resources in Japan and overseas, explanations of support operations as a host organization (company), points to note when hiring, and applications. We will support your complicated work.

Implementation of skill level test preparation course

Explanation of procedures for companies accepting status of residence and support for Specified Skilled Worker.
Service
Employment placement businesses

From those who wish to change jobs in Japan, such as international students and former technical intern trainees, we will introduce human resources from all over the country that meet the needs of companies such as nationality, gender, experience, age, Japanese level. We also accept introductions from overseas human resources in collaboration with overseas Japanese language schools and sending organizations.

01

Upon request, we will hear about the nationality, age, gender you want to hire, and the desired work start schedule, etc. regarding the personality you want to experience. Also, please tell us about the job information related to employment conditions.

02

Forming a preliminary candidate group

Upon request, we will hear about the nationality, age, gender you want to hire, and the desired work start schedule, etc. regarding the personality you want to experience.
Also, please tell us about the job information related to employment conditions.

03

Holding an interview

We will hold an interview online while adjusting your company's schedule and the candidate's schedule. Also, please tell us about the job information related to employment conditions.

04

Support from job offer to application for change of status of residence

In order to proceed smoothly from the job offer to the start of employment, we will proceed with the necessary documents related to the application of the job offer and whether or not we can retire from the current position without any problems in cooperation with the current supervision union and registered support organization.

05

Support from VISA issuance to employment

After the new residence card is issued, we will also provide procedures for retiring from the current position, support for movement, administrative procedures, preparation for living in a new workplace, and support for securing a place of residence.

06

Start of support service from the start of employment

In addition to the mandatory support stipulated by the Immigration Bureau, we will support smooth communication by intervening between companies and foreigners in order to establish and continue working in the new workplace.
Since the improvement of Japanese is proportional to the retention rate, we hold online Japanese language courses every week. Creating opportunities for daily contact with supporters has the effect of preventing early turnover.

Specified Skilled Worker support business

Japan Food and Beverage Foreign Employment Association is also a registered support organization approved by the Ministry of Justice (Special 19-002720). We provide support services for Specified Skilled Worker in 13 countries, mainly in the fields of food service, food and beverage manufacturing, nursing, and construction.
We will support you to establish yourself from our abundant achievements.

Target countries:
English, Chinese, Vietnamese, Mongolian, Myanmar, Russian, Korean, Nepali, Indonesian, Thai, Bengali, Spanish

Support service for changing status of residence

We accept applications for change from existing status of residence such as Student, Technical Intern Training, Engineer / Specialist in Humanities / International Services, Dependent, Designated Activities, Working Holiday, etc., and application for certification of overseas residents to Specified Skilled VISA.

Self-support production consulting

We will build a system that enables self-support production by providing support skills, immigration correspondence, and information for companies that wish to provide in-house support such as mandatory support stipulated by immigration. We will set up a support manager / person in charge within the company, and we will establish a system that can handle immigration and support work for that person.

It is necessary to meet all of the following check items for self-support. Please contact us if there are any items that do not apply.

Studying online Japanese classes

We hold weekly online study sessions for foreign workers supported by our association. We have classes for N3 to N1 levels. Improving your Japanese ability will also increase your retention rate.

Preparation courses for Specified skills evaluation test

If necessary, we support application for exams, provide proficiency test preparation and mock test courses in the fields of food service and food and beverage manufacturing. We also have online classes and at each vocational school.

Employment support seminar (for job applicants)

We hold employment preparation seminars at each school for international students who want to work in Japan. An increasing number of students are hoping to work with specified skilled if they find it difficult to get a job with working VISA (Engineer/Specialist in Humanities/International Services).
Regarding the system of specified skilled, we explain in an easy-to-understand manner the method of job hunting and what the company wants.

Implementation schools:
Tokyo Cooking Confectionery College, Akahori Confectionery College, Hattori Nutrition College, Tokyo Bell Epoch Confectionery Cooking College, Waseda Bunri College, Tokyo Global College, Japan International Technical College, Tokyo Tourism College, etc.

Association overview

Corporate name

Japan Food&Beverage Foreign Employment Association

Establish

July 26th, 2019

Representative Director

Kawakami Shinichiro (Representative Director, SG group)

Directors

Yamada Toshiyuki (YORO-NO-TAKI CO., LTD. Representative Director)
Tezuka Takahiro (Senior Managing Director, Torizen Foods Co., Ltd.)
Kobayashi Tatsuya (Representative Director, Vitalize Co., Ltd.)
Ishizaki Fuyuki (Lawyer)
Taguchi Naoki (Board Member of Sounds Good Co., Ltd.)
Inoguchi Yusuke
Executive Director of Japan Food &Beverage Foreign Employment Association

Advisors

Takino Takashi (KOURYUU LANGUAGE SCHOOOL in Yangon, Myanmar management/Lions club Yangon representative)
Kagawa Yoko (Meros Language School)

Executive Director

Inoguchi Yusuke

Activity content

Holding various seminars
Support for member companies.
Consultation services for hiring foreigners, etc.

License

Paid employment agency business 13-ユ-311407
Fee-charging employment placement 19登-002602

OFFICE